Community Partnership Projects 2019-2020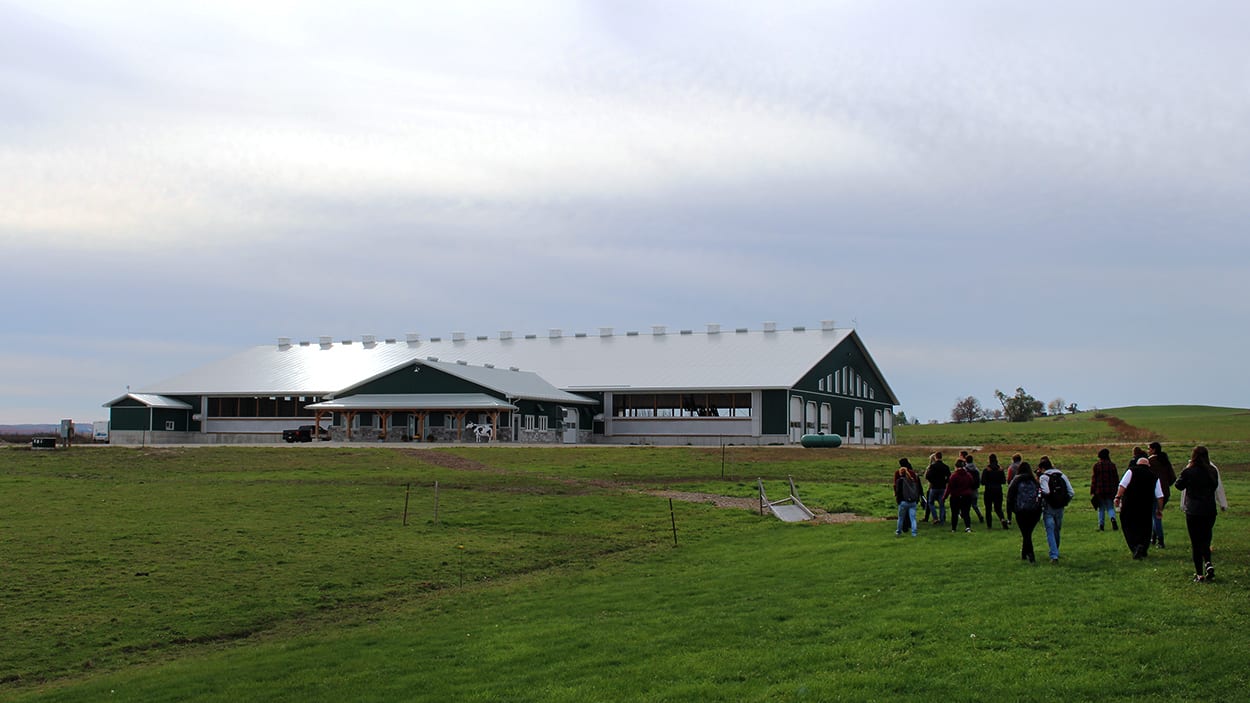 Each year Arrell Scholars and their HQP peers are paired with an organization or business to build new skills through experiential learning. Together, these teams tackle an agri-food problem and develop a solution that draws on the expertise of the participating students.
Food Waste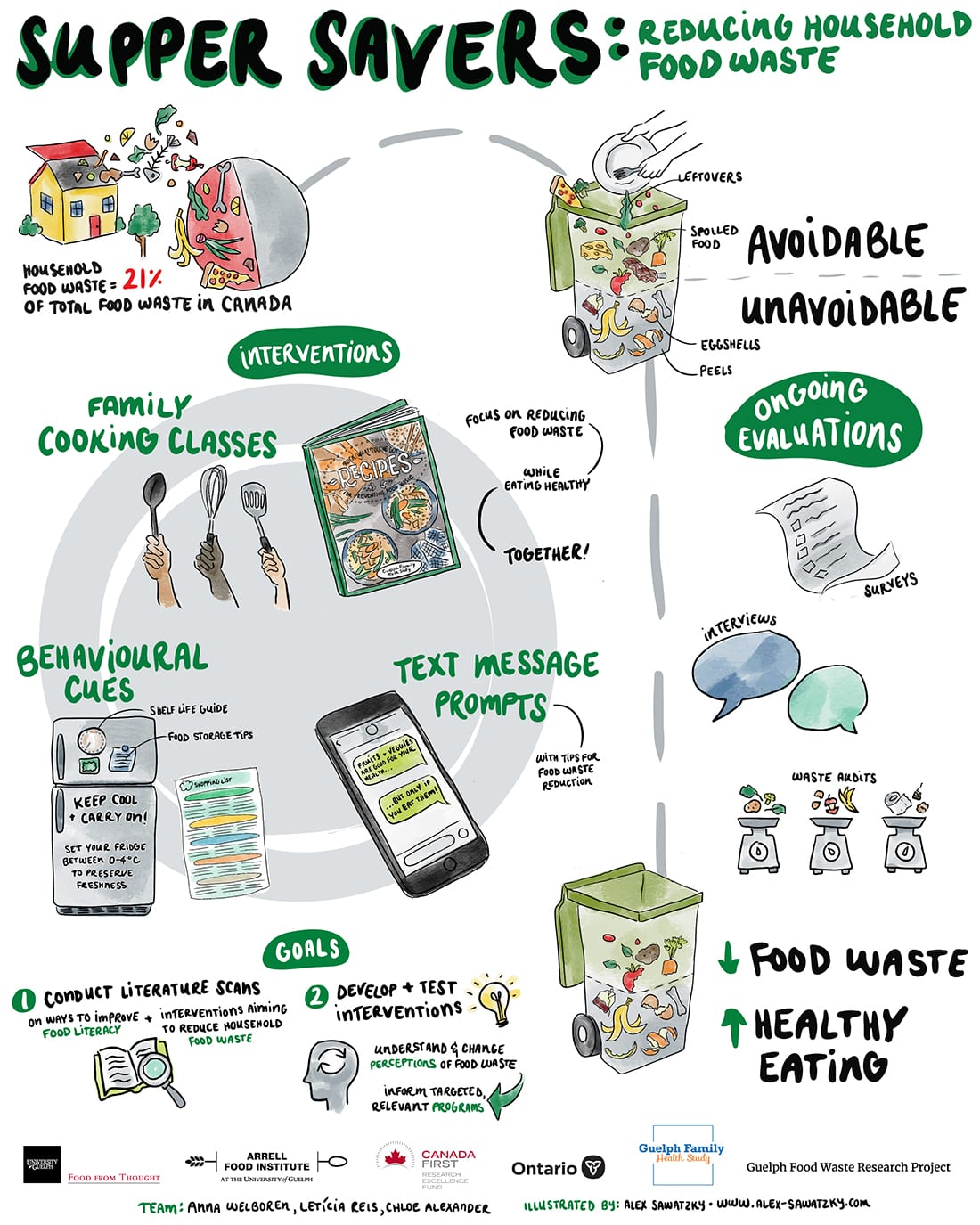 Food waste at the household level accounts for 47% of Canada's food waste. Thus, identifying effective strategies to reduce household food waste is critical to ensuring the sustainability of our food systems. This graduate team supported a larger pilot study to test the feasibility, acceptability, and preliminary impact of a Food Waste Reduction Toolkit for families. This project involved developing intervention messages (i.e. text messages) to support food waste reduction, primary data collection from families, recruitment of families, data analysis, and creating a variety of knowledge mobilization tools.
Measuring the Environmental Impact of Agri-tourism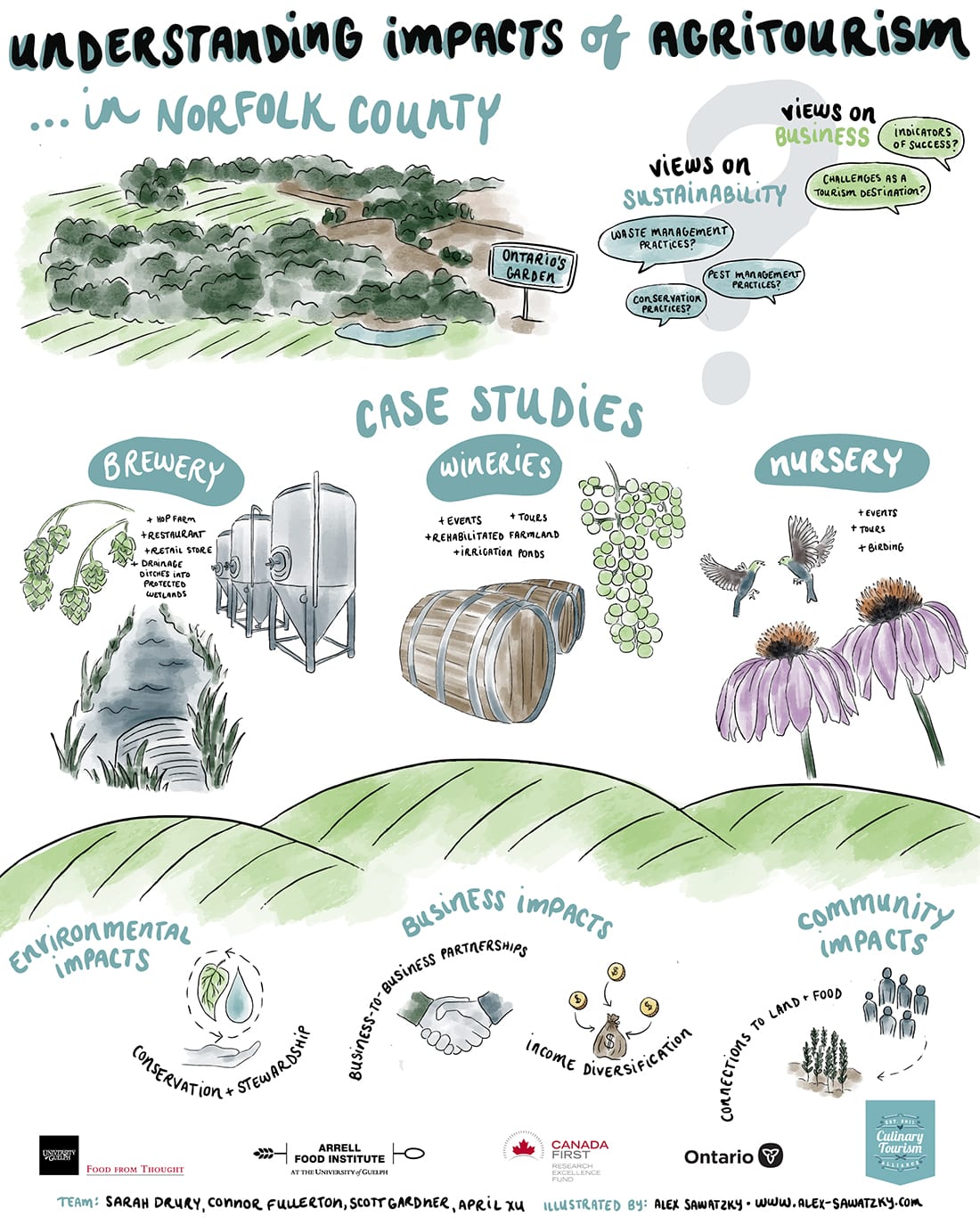 Agri-tourism can contribute to more sustainable local food systems across the globe by connecting people to where their food comes from, providing income diversification opportunities for farmers, and encouraging conversations about sustainable farming. Through a series of case studies, the graduate team examined environmental impacts of agri-tourism, including impacts due to over-tourism. This information will aid CTA in determining how destinations prioritize environmental sustainability and how tourists value environmentally-friendly practices.
Food Innovation to Increase Sustainability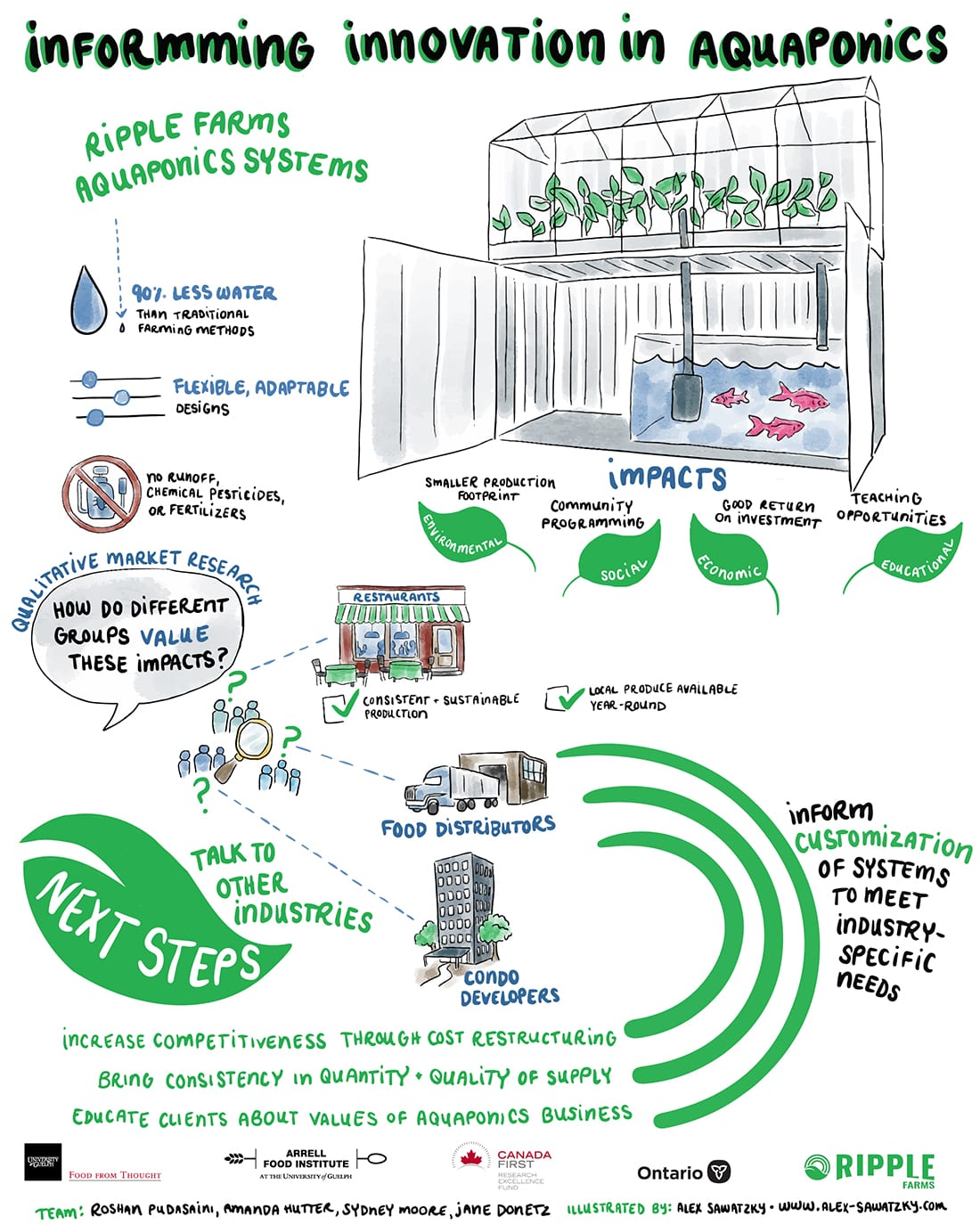 Ripple Farms is an aquaponics farm system balancing sustainability and innovation to grow high quality crops and Toronto's freshest seafood and greens 365 days a year. The graduate team conducted a market feasibility study involving qualitative market research in order to produce convincing communications for restaurants and markets in the greater Toronto area.
Sustainability through Efficiency in Livestock Production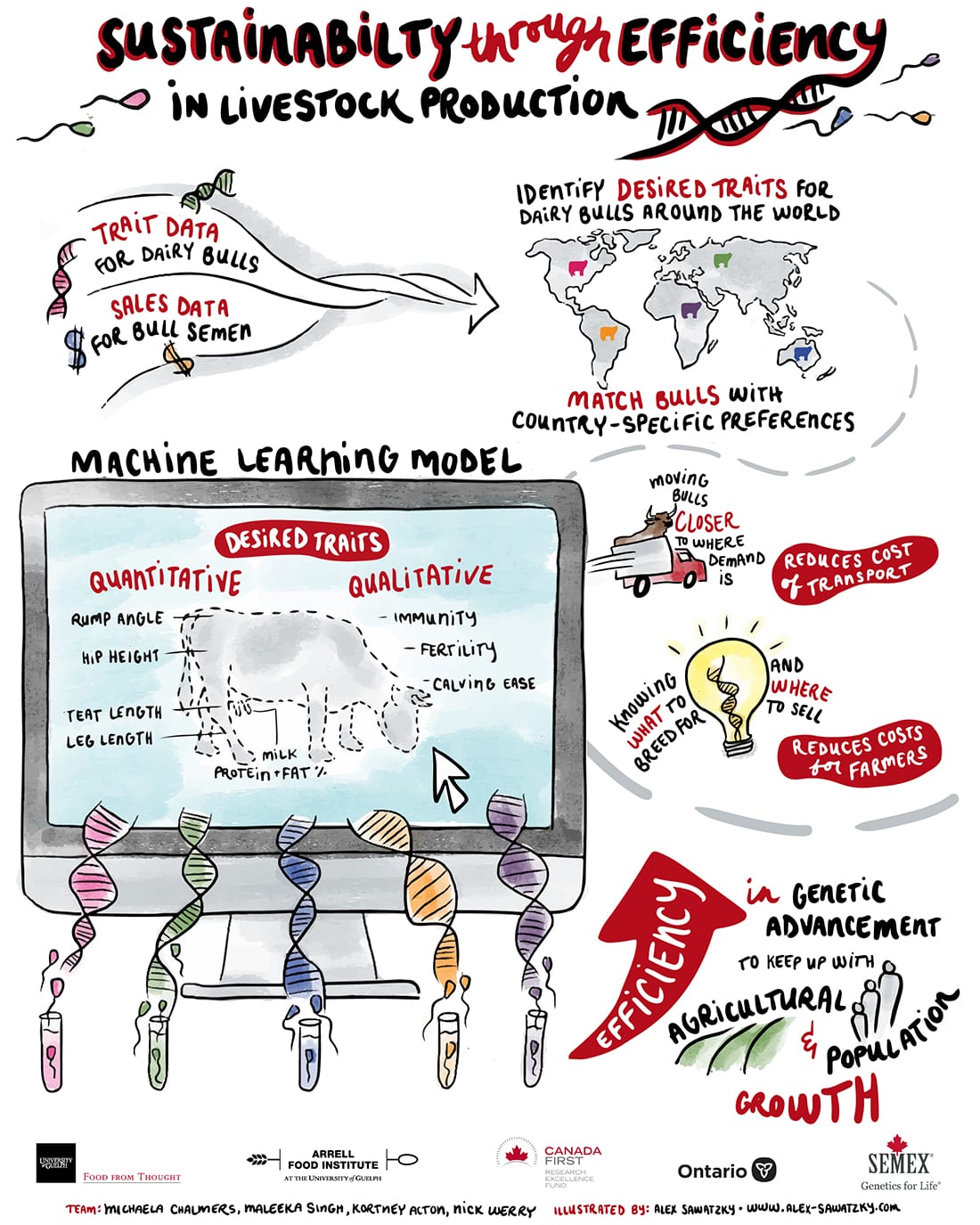 Semex is an international company that provides high quality semen from selected elite sires for the dairy and beef industries. Understanding the factors that affect what product will be popular in each market is a large challenge. Semex would like to utilize machine learning or artificial intelligence capacity to help solve this problem in a novel way and design a product line to meet the growing diverse needs of dairy farms around the world.
The graduate team conducted market research and technology development services by utilizing machine learning to propose a course of action for Semex in predicting the desired genetics for each region.  This work laid the ground work for Semex to design a product line to meet the growing needs of dairy farms around the world.
Fresh Food Rx Pilot: Addressing Insecurity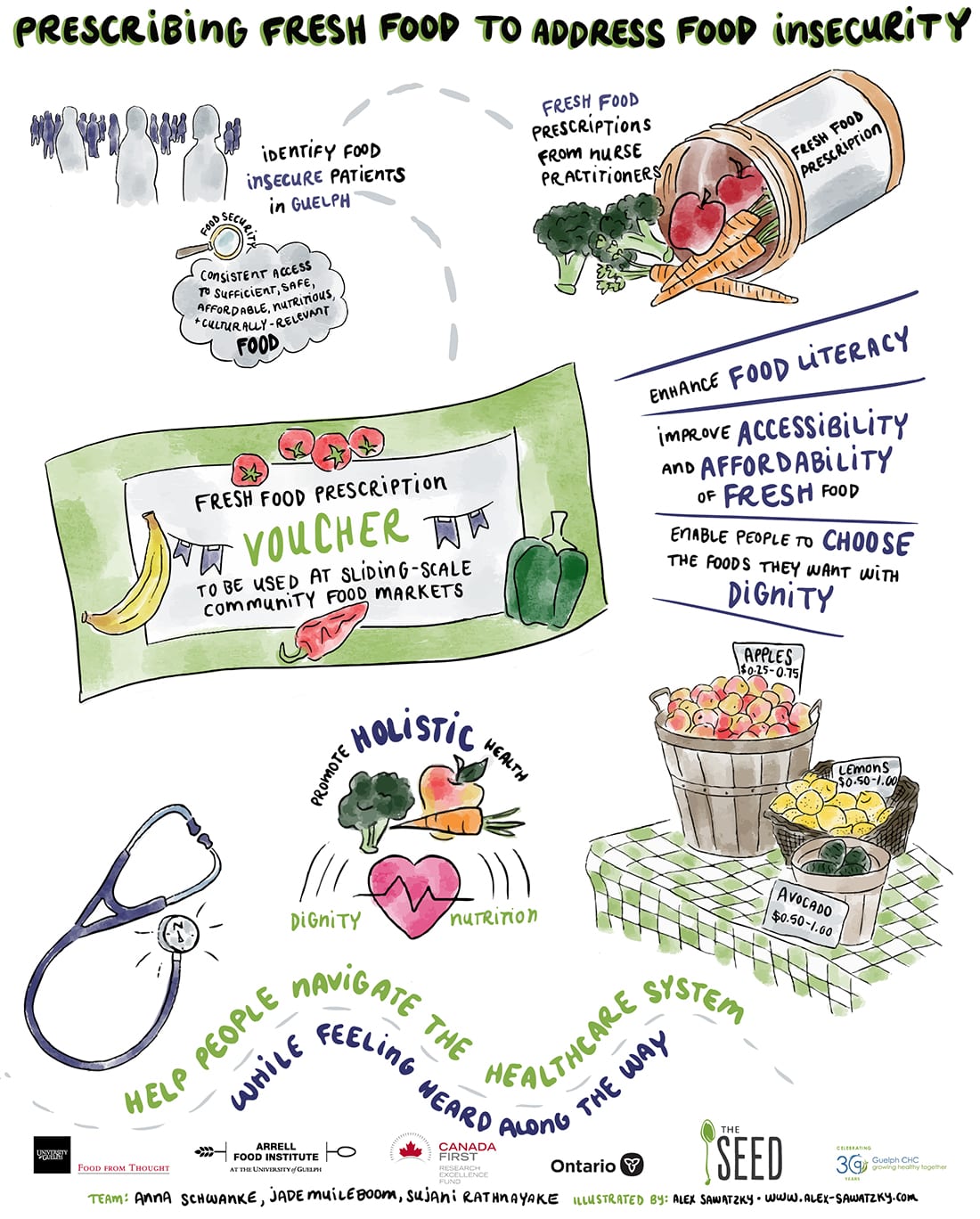 The SEED is a community project of the Guelph Community Health Centre whose goal is to eradicate food insecurity in Guelph by increasing food literacy and access to healthy food. The SEED's Fresh Food Rx Pilot identifies patients who are food insecure and provides them with fresh food prescriptions that improve food literacy and include a voucher to redeem fruits and vegetables at Community Food Markets.
The graduate team participated in the Fresh Food Rx Pilot by conducting surveys and interviews of potential clients. They also supported the pilot in data analysis, community and policy advocacy and future study design.
Food Waste and Food Sustainability
Oreka Solutions' mission is to harness the power of the black soldier fly to transform animal feed.
The graduate team supported Oreka Solutions through mapping and identifying food waste streams in Guelph/Wellington area, and informing the creation of a management and tracking software system to track input at all levels (retail, processors, farmers, and brewers).