Reimagining labour in agriculture
RESEARCHED AND WRITTEN BY BRENDA ZAI, MSC STUDENT, DEPARTMENT OF FOOD SCIENCE, ONTARIO AGRICULTURAL COLLEGE, UNIVERSITY OF GUELPH
Canada is known for its flourishing agriculture and agri-food industry, a point of pride for the nation. The agriculture and agri-food industry is comprised of all contributors to the food supply chain; including primary agriculture, food and beverage processing, input and service suppliers, retail, wholesalers, and foodservice industries. The sector employs over two million Canadians, accounting for 12% of jobs in Canada [1]. The Canadian economy also attributes 6.3% of its annual GDP to the sector [1]. Canadians heavily rely on their agriculture and agri-food industry, yet the agriculture and agri-food industry experiences the greatest labour shortage in the nation.
Canada's Labour Shortage in Agriculture and Agri-Food
The labour shortage within Canada's agriculture and agri-food industry is a long-existing issue that has been significantly growing over time. From 2007 to 2017, the labour gap doubled in size from 31,500 to 63,000 people [1]. In 2017, approximately 16,500 jobs within the sector went unfilled, equating to a revenue loss of $2.9 billion or 4.7% of product sales [1]. The Canadian Agricultural Human Resource Council (CAHRC) forecasts that the labour gap will nearly double by 2029 to a gap of 123,000 people, which is roughly one in three jobs in the sector [1]. In addition, Canada's workforce is aging, and the sector expects to see 112,200 workers retire by 2029, which is 37% of the industry's current workforce [1]. These factors are concerning because it could cause interruptions to food supply for Canada and countries that rely on Canadian food exports.
Glossary
The Canadian Agricultural Human Resource Council (CAHRC) is a national, non-profit organization focused on addressing human resource issues facing agricultural businesses across Canada.
The Temporary Foreign Worker Program (TFWP) is designed for Canadian employers to hire foreign workers within various job positions that cannot be filled by available Canadian or permanent residents.
Gross Domestic Product (GDP) is the total monetary or market value of all finished goods and services produced within a nation. GDP does not include the value of the parts that go into the finished goods.
Accelerated Capital Cost Allowance (ACCA) allows companies to recover costs of investments. This provides companies with an incentive to adopt new technology and machinery by decreasing the risk of investment and increasing the return on investment rate.
Canada's agriculture and agri-food industry faces a unique combination of labour challenges. The following factors contribute to the ever-growing labour gap in the industry and subsequent heavy reliance on temporary foreign workers as a stopgap solution.
Seasonality
The extreme seasonality of the work results in substantial fluctuations in employment throughout the year. Canada's shorter growing and harvest cycles yield shorter employment seasons, a less stable employment option that is unattractive to Canadians [2]. The seasonal employment peak is over 32% higher than its low [1]. In comparison, the difference in seasonal peaks and lows across the nation's other sectors is only 5%, on average [1].
Rural Location
The Canadian population has increased by more than nine million people since 1991 [2]. However, the entirety of this growth developed in urban areas instead of rural. Over the same period of time, the rural population of Canada has remained relatively stagnant at 6.4 million [2]. This has resulted in urban residents being less familiar with agriculture and less aware of career opportunities within the industry. It is also becoming common for young people in rural areas to move into urban centres, further shrinking the sector's pool of potential workers.
Work Perceptions
Agriculture and agri-food jobs have a reputation for requiring physically demanding work for low wages. As of 2018, the agriculture sector's wages are below the Canadian average, with weekly earnings averaging $774 compared to $984 to the nation's other sectors [1]. This glaring fact contributes to the stigma that a career in the industry is difficult and unfulfilling; powering a lack of awareness for diverse career opportunities in the agriculture and agri-food sector.
The COVID-19 Impact
The emergence of the COVID-19 pandemic in 2022 disrupted economies and industries in Canada and globally. In addition, pandemic restrictions and border closures limited the employment of temporary foreign workers exacerbating the labour shortage. Those who utilized the Temporary Foreign Worker Program (TFWP) were over twice as likely to have experienced a labour shortage than those who did not [3]. Despite record-high unemployment rates in Canada, operators and business owners in the agriculture and agri-food sector reported difficulty recruiting domestic workers due to challenges with work perceptions and rural locations.
Ultimately, 12% of positions went unfilled as a result of the pandemic [3].These labour shortages caused excessive stress for business owners and operators, production delays, overtime costs, and delayed or cancelled investment or expansion. The impacts of the shortage resulted in an estimated $2.9 billion in lost sales, 4.2% of the industry's total [3]. The COVID-19 pandemic emphasized the industry's pre-existing labour gap and the nation's inadequate efforts to fix it.
Innovative Technology Adoption as a Solution
Canadian agriculture has undergone three technological revolutions in its history: (1) fertilizers and machinery, (2) diesel and gas power, and (3) advances in crop genetics. The nation is due for a fourth revolution, agriculture technology that will close Canada's labour gap. Innovative technologies that are paving the way for this revolution include Artificial Intelligence (AI), automation and robotics, voice recognition, and cloud platforms.
If we accelerate the integration of new agricultural technologies, Canada's productivity could improve immensely because it could help to fill the labour shortage gap. This improvement could allow Canada's agricultural and agri-food industry to gain an $11 billion output by 2030, surpassing the GDPs of the automobile assembly and aeronautics industries [4].
In addition, technology can help improve the perception of the quality of work provided to workers. While technology may replace certain labour tasks within Canada's agriculture and agri-food industry, the workers within the labour force will not be replaced but instead the skills they utilize will be further developed. The approach of embracing a new skills agenda will help support current labour workers in the sector while also attracting new employees and youth. The integration of innovative technologies demands new skills from the labour market and a fresh management mindset. Skills will evolve to include technology awareness and digital interfacing, data analytics, computer science and engineering, among others. Automation and innovative technology will open the industry to non-traditional sources of talent and facilitate less physically demanding work.
A significant barrier that has prevented the industry from adopting technology is cost. Agriculture and agri-food is a capital intensive industry. Current expenses associated with operations in the sector consume approximately $0.83 for every dollar earned [4]. Despite the ability for innovative technology to cut costs in the long run, it is expensive to acquire and implement initially. In addition, Canadian agriculture and agri-food have only 1.9% of the national commercial lending, whereas the global average is 2.9% [4]. This lack of access to credit is a great barrier for farmers and other agri-food business operators. It limits their competitiveness in the industry and impedes development; reasons so many operations remain small and would rather rely on the TFWP.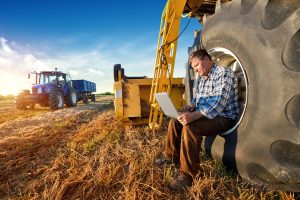 The federal government of Canada should introduce an accelerated capital cost allowance (ACCA) to help fast-track the adoption and integration of innovative technologies in the nation's agriculture and agri-food industry [5].

Government-mediated industry groups should be coordinated to provide pilot programs and regulatory sandboxes for those in the sector to test the new technology and processes in conjunction with their operations [5]. Producers and business owners have the ability to recover these initial costs associated with technology implementation while reducing the overall investment risk.

Establish a reliable, universal broadband service for rural communities to combat the bottleneck formed in technology innovations [5]. This will enable greater automation, leading to opportunities such as higher yields through more precise inputs and e-commerce prospects for all businesses.
Policy makers, industry, and educators have a shared responsibility to shift the perspective of the next generation's workforce to consider the emerging career opportunities in the agriculture and agri-food industry. This can be done through curriculum co-development between educators and industry and the development of mentorship programs [5].

Educators should incorporate agriculture and agri-food to increase the next generation's awareness of careers in technology in the sector. Re-training programs are established for the industry's existing labour force to gain the new skills and knowledge needed to grow alongside technological advancements and market changes [5].

Industry groups should generate campaigns to attract and retain a broader workforce to include youth, Indigenous people, and new Canadians to the possibilities of fulfilling careers in the sector.