Chef Suzanne Barr's Masala Fish Fry for World Food Day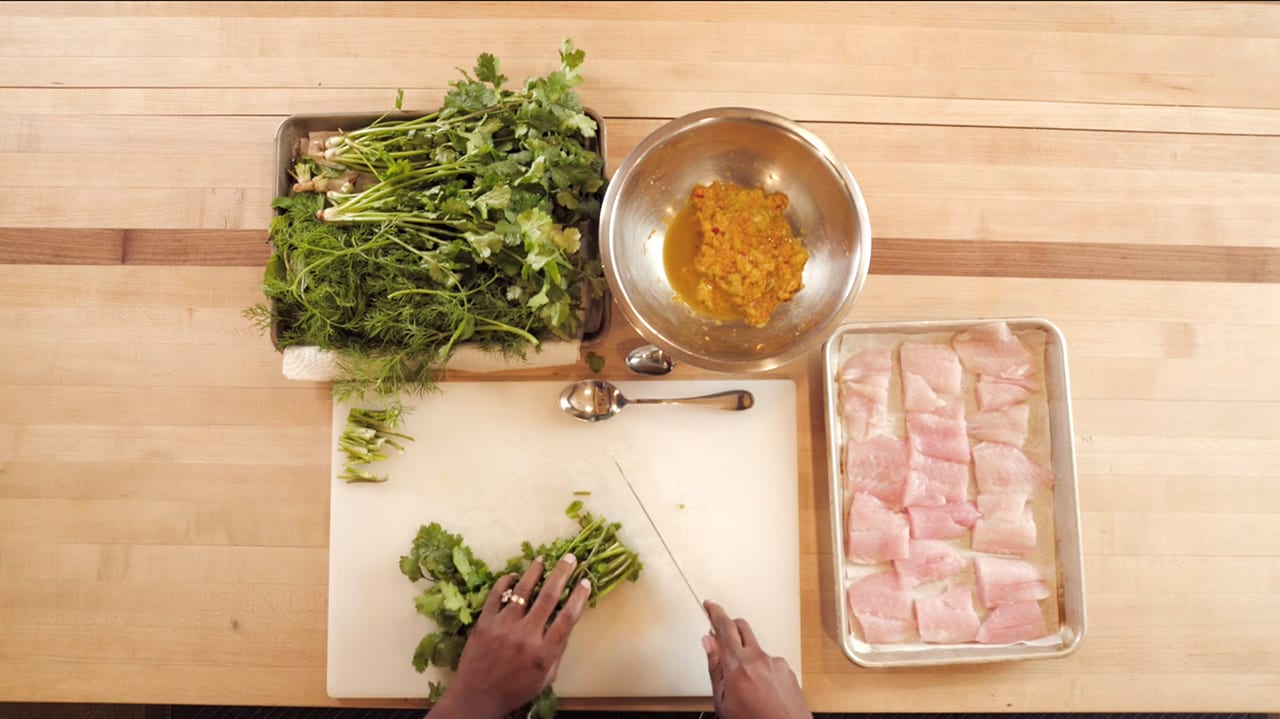 Ingredients
1 pound rock fish or haddock, cut into 1 1/2 inch portions
masala fresh marinade
1 medium english cucumber flesh and seeds
1/2 bunch of coriander leaves and stems
1/2 cup dill
1 teaspoon grated fresh turmeric
1 clove garlic
2 teaspoons grated fresh ginger
3 green cardamon pods
1 red bird chilli, stem removed
2 teaspoons salt
masala fish fry batter (GF)
3/4 cup cornstarch
1/2 cup white rice flour
1/4 cup chick pea flour
1 teaspoon baking powder
2 teaspoons curry powder
1 teaspoon salt
1/4 teaspoon ground black pepper
3/4 – 1 cup sparkling water
frying
3 cups grape-seed oil
2 tablespoons salt
2 cup cornstarch
2 cups rice flour
1 lemon cut into wedges
carrot top relish
2 cups shredded carrots
1 cup chopped carrot tops
1 teaspoon green chilli minced
1/2 cup chopped white onion
4 tablespoon tamarind paste, remove seeds
2 tablespoons sugar
1 tablespoon lemon juice
1 cup white vinegar
2 teaspoons salt
cucumber raita
1 cups greek style yogurt
1 medium cucumber, seedless
1 garlic clove, peeled and grated
1/2 lime zested
2 tablespoons chopped cilantro
2 tablespoons chopped mint
pinch cayenne pepper
1 tablespoon olive oil
1 teaspoon salt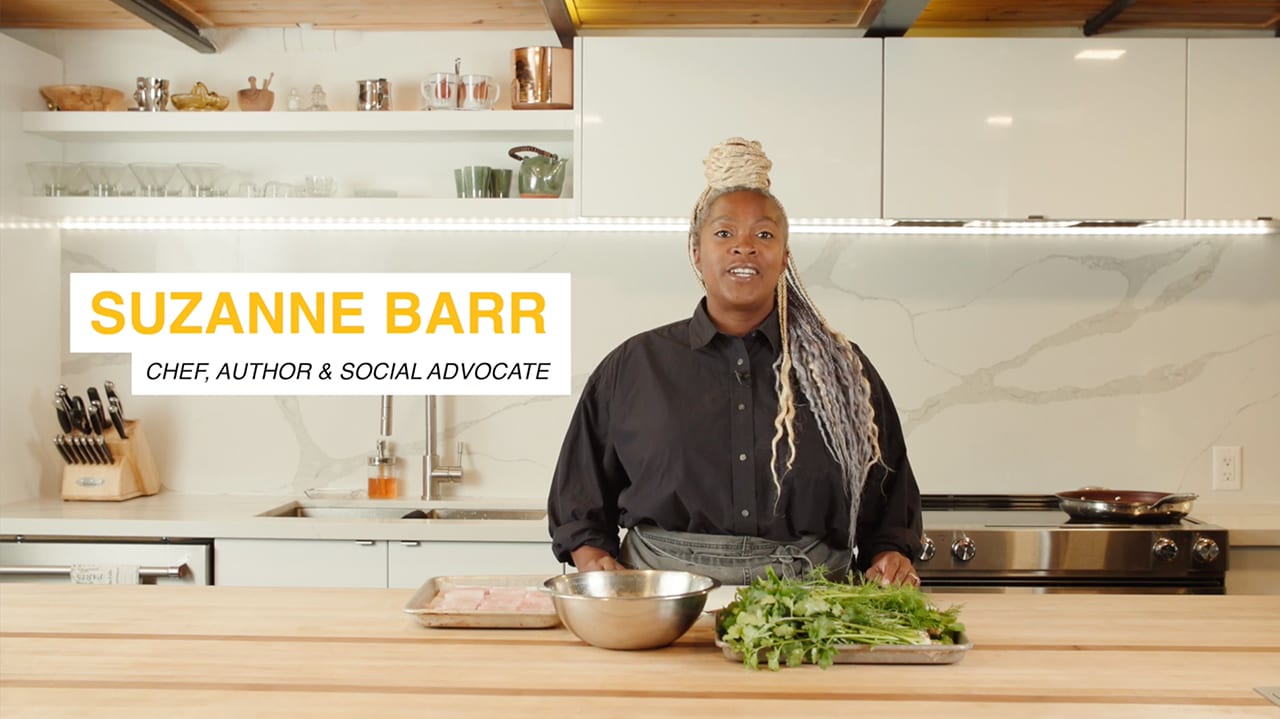 Instructions
cod trim and pieces:
Pat dry fish pieces. Cut pieces to 1 1/2 inch portion. Place butchered fish into a bowl.
masala fresh marinade:
Place all cucumber flesh and seeds in a bowl. Roughly chop cilantro leaves, stems and fennel fronds. Using a microplane grate turmeric, garlic, and ginger. Using back of your knife lightly crush cardamon pod. Slice red chilli peppers and all ingredients to the bowl. Mix well and season with salt adjust flavour if necessary.
masala fish fry batter:
Yield all dry ingredients into another bowl. Using a whisk or spatula mix all together. Slowly our sparking water into dry mixture folding with a spatula until batter is not to thick and yet not too runny. Be sure to not over mix it will effect the carbonation.
frying:
Using a heavy bottom pot or wide frying pan add oil to pot and using a candy thermometer heat oil until 325 degrees. Watch your temperature turn down stovetop to if necessary do not burn your oil. While fish is in masala fresh marinade make fish fry batter. Once complete place into fridge until ready for use. In a shallow tray mix cornstarch and flour together and set aside until ready to batter. Prepare a tray with paper towels to help catch excess oil once trim is removed from pot. In small batches dredge the fish trim into the cornstarch mixture dusting off excess flour. Slowly dip fish trim into fry batter and immediately place carefully into pot or pan of oil. Allow each piece to cook until golden brown using spider or slotted spoon remove from pot on prepared tray and salt fried fish. Continue this process until all trim is fried and golden brown. Be sure not to forget to salt pieces once removed from pot.
carrot top relish:
Please shredded carrots and chopped carrot tops in a bowl. Add chopped chilli and onions to carrots and tops mix together. In a small bowl whisk together remaining ingredients creating a dressing. Add a pinch of salt and pour over relish. Mix well and allow to sit minimum 15 min before enjoying.
cucumber raita:
Night before place yogurt in cheesecloth lined colander allowing to drain excess liquid. Using a box grater process cucumber. Scoop hung yogurt onto grated cucumber. Using micro plane grate garlic and lime into bowl with cucumber and yogurt. Add chopped cilantro and mint. Add cayenne, olive oil, and salt to mixture and mix well. Taste for and adjust if necessary. Enjoy
plating:
Add a dollop of raita to a plate spreading evenly onto the base. Portion evenly the fish yield enough for your 4 guest onto the prepared plate and squeeze a bit of lemon juice on the top. Using a spoon garnish fish with relish on each bite. Garnish with cayenne.