Authors: Kesia Kvill, Rebecca Beausaert, Maggie McCormick, Lisa Ashton
Canada is not facing food shortages, though sparse grocery shelves and a run on baking yeast certainly conjure up the stories told by parents and grandparents of living through disruption in the last century.
Two Guelph food historians, Rebecca Beausaert and Kesia Kvill, looked back in Canadian history to tell us how citizens made do in times of uncertainty during the last century, and what advice we can take from them.
1. #CompostSoup
Referred to as #compostsoup on Instagram, if you want to get the most out of your own food, consider saving all your veggie scraps and chicken bones from meal prep in the freezer and simmering to make a stock once you've collected enough.
When Canada introduced food control in June of 1917 during the First World War, the Office of the Food Controller (later the Canada Food Board) was quick to offer women similar advice on making the most out of every ingredient. Government-produced pamphlets from the era heralded that "the bones thrown into the garbage pails every day contain the essence of hundreds of plates of soup."1
Women's magazines, like Everywoman's World gave more direct suggestions. A good base for soups is "…those pots of spinach or potato water. Then the little bits of vegetable leftovers – a spoonful of peas or beans, a couple of little carrots – we can add them. And such a little bit of last night's meat – not enough even for rissoles – but plenty for flavouring! … Oh, yes, we must put the stock-pot of our grandmothers back in our modern stoves!"
2. Grow your own
Amidst the uncertainty and ample time at home, people from all ages and regions of Canada are starting their own gardens. Proud new plant parents are posting photos of herbs growing on their windowsills and potted seedlings filling doorways, ready to go outside once that last frost has passed.
Social media aside, a similar trend was observed in war time. In both the First and Second World Wars, "victory gardens" were trendy and one of the most obvious and useful examples of patriotism and food conservation on the home front. Their purpose was to both alleviate pressure on the food supply and bolster the production of perishables. Instead of purchasing canned goods from the store, women were expected to preserve their own fruits and vegetables. While Canadians did not face the food shortages of Britain or in war torn countries, they were being asked to free up items that were more easily shipped overseas. To make up for this loss, consumption of home-grown fruits and vegetables was urged. Many Canadians were already keeping gardens during the wars, so they simply expanded their plots (if possible, depending on where one lived) and enhanced their variety of fruit and vegetables. Victory gardens tended to be more of an urban phenomenon as valuable agricultural land was reserved for large crops of important foodstuffs like wheat.
Growing your own food, however, requires supplies like seeds, tools, and fertilizer, and during times of disruption (whether war time or a pandemic) these can be hard to come by. For this reason, Canadians were initially discouraged from growing victory gardens in the Second World War.
Today, some retailers are already noticing a boost in seed sales in some parts of Canada. But working with plants provides a secondary benefit: gardening is a known stress relief, perfect for dealing with uncertain times.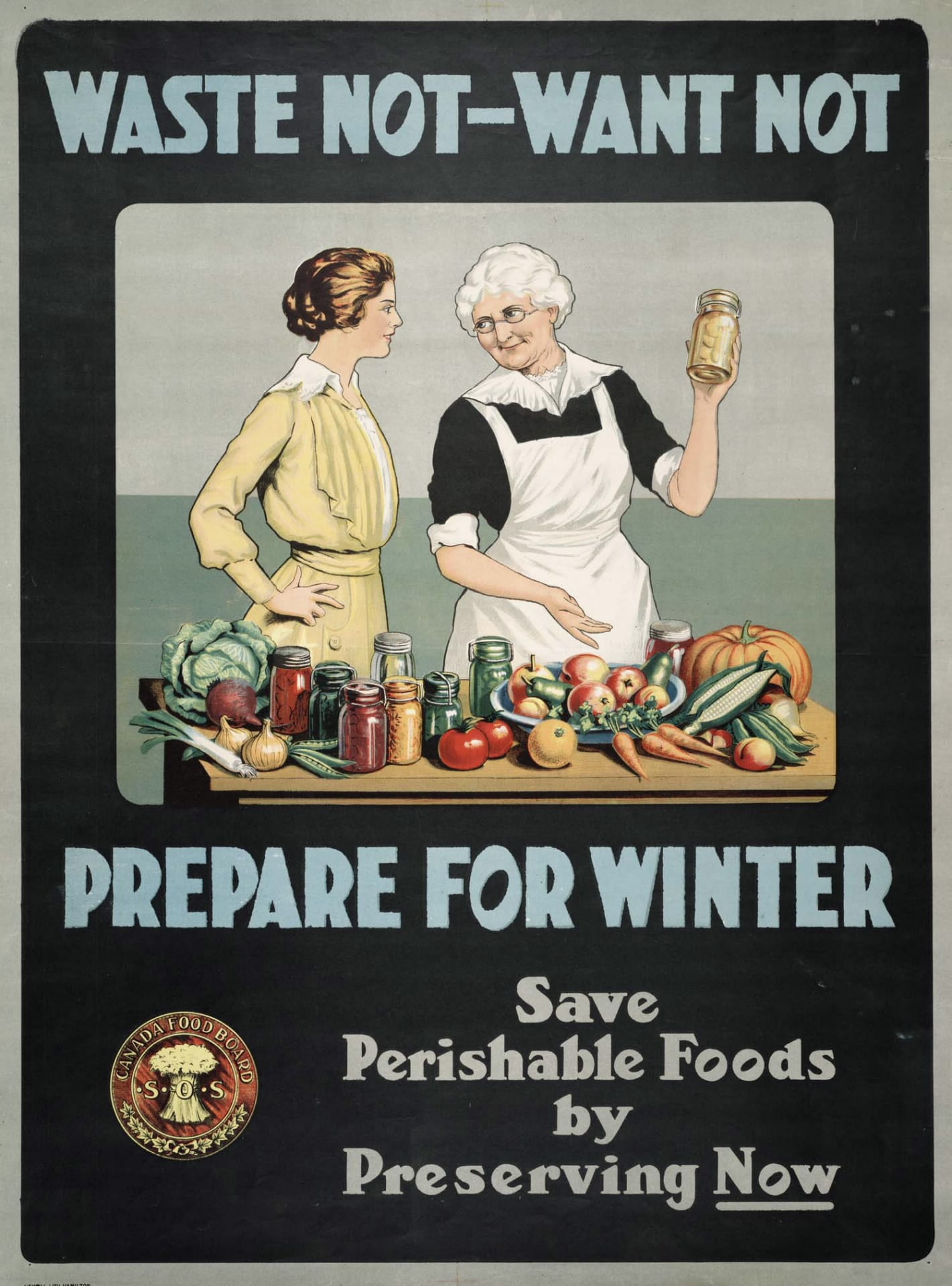 3. Say farewell to food waste
Today, if food waste were its own country, it would account for a third of all GHG emissions. But historically, avoiding food waste was encouraged to ensure there was enough food for all.
Complementing the efforts of "Canada's war gardeners," a government pamphlet cookbook states the importance of dealing promptly with the preservation of fruit and vegetables in order to avoid waste. In 1918, Chairman of the Food Board, Henry Thomson, noted that canning, drying, or storing in season fruits and vegetables not only allowed more wheat and other foods to be shipped overseas, but it also reduced Canadian's cost of living. Additionally, a supply of vegetables and fruit throughout the year had numerous health benefits.11
Today, canning and drying may not be within every Canadian's skill set or at-home resources (and food safety should be at front of mind). However, there are more accessible options to limit your frequency of grocery store visits, including freezing fresh fruits and vegetables and ensuring they are properly stored.
4. Substitution
Since casually running to the store is no longer an option, the war-time wisdom on substitution might come in handy.
During the First World War, Canadian farmers were tasked with increasing their acreages to provide Canadian soldiers and allies with wheat, while women were tasked with reducing their households' consumption of beef, bacon, wheat, and eventually sugar. Recipes for substitutes were widely shared, with legumes like beans and peanuts being made into mock meatloaves and wheat flour bolstered with left over oatmeal or diluted with buckwheat flour.
In August of 1917, Ethel M. Chapman of the Ontario Department of Agriculture Women's Institute Branch (and graduate of the Macdonald Institute) published "War Breads: How the Housekeeper May Help to Save the Country's Wheat Supply." Noting that "white bread is not the bread for war-time," Chapman's pamphlet provides recipes for a number of alternatives so that "every woman in her own home can do some patriotic saving by supplementing the supply of white bread with breads, biscuits, etc., made from the flour or meal of other grains, or from the whole wheat or graham flour or bran."
If you find yourself with only a bit of flour left, but a hankering for some muffins, try Chapman's recipe for Rice Muffins. Also consider searching recipe blogs that specialize in gluten-free baking if you're low on wheat flour.
5. Being neighbourly - from a safe distance
In Canadian history, the Great Depression certainly stands out for its impact on the lives (and diets) of Canadians. With high levels of unemployment, severe reductions in wages, and a dust bowl that impacted North American agricultural systems, many families struggled to find and purchase the requisite amount of food.
Concerning the role of food during the Great Depression, the work of historian Denyse Baillargeon provides some valuable insights thanks to several interviews she conducted with women living in Montreal during that time. Weighed down by the burdens of unemployment and a volatile economic system (much like today), during the Great Depression there was still hope as Canadians helped each other as much as possible. As Baillargeon's respondents noted, during the hardest of times, families, friends, and neighbours still offered to help one another by sharing things such as childcare, household tasks, and gifts like food and fuel. Though physical distancing means that our ability to help each other out in such ways is currently limited, on the daily, social media shows us that Canadians are making the best of our current situation by delivering meals to front line health care workers or offering to grocery shop for those who do not wish to, or cannot, brave stores right now.
If you can help your neighbours, be sure to follow the latest guidelines about physical distancing and food safety to keep yourself and your neighbours safe.
6. Baking, baking, and more baking
One of the most popular hashtags to emerge from the pandemic is #Quarantinebaking. Many folks are dusting off their mixing bowls and searching grocery store shelves for flour and yeast. Several reasons have been identified to explain the massive surge in baking, and bread baking especially: it's a mode of therapy, a stress releaser, a connection to happier times, or an economical way to avoid the grocery store.
It is logical to assume that during the Great Depression Canadians were also largely baking from scratch, for many of the same reasons they are now. Interestingly, that's not necessarily the case. Many women who lived through the Great Depression noted that if a woman was unfamiliar with bread baking, these experiments could be a costly waste of time and ingredients. Instead, many women opted to buy bread from commercial bakeries at the end of the day. When delivery trucks returned with unsold loaves, companies were willing to sell them to consumers at lower prices.
Such concerns about wasting ingredients and lack of know-how are still relevant today as many wonders if they should try their hand at new recipes to replace store-bought baked goods. However, just as Depression-era housewives managed and made choices that best fit their families' needs, home cooks should do the same. If you are keen to try, follow expert bakers on YouTube to come out of this pandemic with a new culinary skill under your belts, but don't feel pressure to cook from scratch.
Learn More: References
Baillargeon, Denyse. "'If You Had No Money, You Had No Trouble, Did You?' Montreal Working-Class Housewives During the Great Depression." Women's History Review 1 (2) (1992): 217-237.
Katherine M. Caldwell, "An Army of Savers," Everywoman's World, September 1917, canadiana.ca
Canada Food Board, "Fruit and Vegetables," (Montreal: Herald Press and Advertising Agency, 1918), intro, canadiana.ca
Canadian War Museum.  https://www.warmuseum.ca/cwm/exhibitions/newspapers/canadawar/economy_e.html 
Ethel M. Chapman, "War Breads: How the Housekeeper May Help to Save the Country's Wheat Supply," (Toronto: Dept. of Agriculture, 1917), canadiana.ca
Driver, Elizabeth. Culinary Landmarks : a Bibliography of Canadian Cookbooks, 1825-1949 Toronto ;: University of Toronto Press, 2008.
Mosby, Ian. Food Will Win the War: The Politics, Culture, and Science of Food on Canada's Home Front. Vancouver: UBC Press, 2014.  
Office of the Food Controller, "Food Service: A Hand Book for Speakers," (Ottawa: King's Printer, September 1917).
Veterans Affairs Canada. https://www.veterans.gc.ca/eng/remembrance/information-for/students/jason-and-the-memory-box/definitions 
Wartime Canada. https://wartimecanada.ca/essay/eating/food-home-front-during-second-world-war 
Photo credit: Library and Archives Canada, Acc. No. 1983-28-706